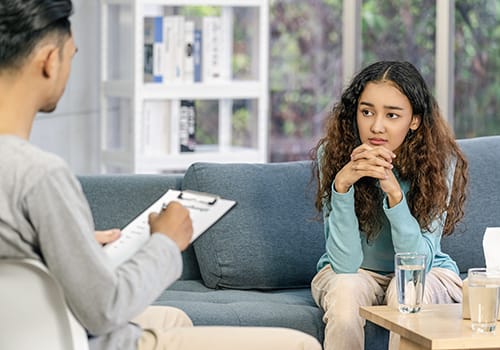 Strategies like psychotherapy, personal reflection, or mindfulness exercises help patients explore and better understand their feelings, behaviors, and beliefs. By doing so, the patients can better understand themselves and make positive changes in their lives that promote healing and growth. An individual therapy program for adolescents is an excellent way to accomplish this.
At Massachusetts Center for Adolescent Wellness, we strive to create a safe and supportive environment for adolescents to explore their inner world and develop coping skills that will serve them well throughout their lives. To learn more about our adolescent therapy programs, call us at 855.944.6589 today.
What Is an Individual Therapy Program?
Individual therapy is a type of counseling that addresses one's unique needs or concerns. It is a popular and effective mode of treatment for many different types of mental health conditions. The therapy involves a therapist working one-on-one with patients to identify areas in their lives that may contribute to mental or emotional distress.
Whether used as a standalone or in conjunction with other forms of therapy, individual teen counseling can effectively address mental health or substance use issues and improve well-being.
At MCAW, we offer individual therapy as part of our comprehensive outpatient treatment program for adolescents. Our team understands the unique challenges that teens face. Therefore, we can work with them to create personalized treatment plans that address their problem areas, including:
Depressive disorders
Anxiety disorders
Eating disorders
Obsessive-compulsive disorder (OCD)
Post-traumatic stress disorder (PTSD)
Substance use disorders
Behavioral issues
Overcoming obstacles to success
Anger management
Coping with grief or loss
Insomnia
Improving self-esteem and body image
Building healthier relationships
Working through family conflict
Dealing with academic stressors
An individual therapy program can be a safe and non-judgmental space for individuals to express their thoughts and feelings without fear of prejudice or criticism. The therapist acts as a guide, helping patients explore their emotions and behaviors in a deeper and more meaningful way.
What Are the Benefits of Individual Therapy for Adolescents?
Individual therapy offers several benefits for teens dealing with mental or addiction issues. Some of the benefits of individual therapy include the following:
Development of Strong Therapeutic Relationships
Research shows that therapeutic alliance is a crucial component of successful teen therapy intervention.
Development of Self-Awareness
This comes by discussing issues and getting feedback from the therapist.
Privacy and Confidentiality
Teens can discuss personal issues and process difficult emotions or feelings in a safe setting.
Personalized Care and Attention from a Skilled Therapist
This can help foster trust and confidence and address each teen's unique needs.
A Chance to Learn New Skills and Strategies
These are essential for managing difficult emotions, triggers, and stressors.
Quick Appointments and Flexible Scheduling
At Massachusetts Center for Adolescent Wellness, we can arrange a therapy session when needed.
What to Expect During Individual Therapy for Teens
The first step is to schedule an initial assessment with a therapist. During the initial evaluation, the therapist will ask about symptoms, medical history, current stressors, etc. They will then create a plan on how to address these needs.
The teen should also take advantage of this time to get to know the therapist and ask any questions they may have about therapy. It's essential that they feel comfortable with their therapist and believe that they can trust them. As mentioned earlier, the therapeutic alliance helps ensure adolescent therapy works.
This alliance often has three common themes:
The therapist's and patient's ability to agree on treatment goals and tasks
The affective bond between patient and therapist
The collaborative nature of the relationship
If the teen opts for therapy, the next step is regular sessions. Each session offers unique support and guidance as they navigate challenging emotions and experiences. The therapist may also provide coping strategies, problem-solving techniques, and stress management skills.
How an Individual Therapy Program Works
Individual therapy helps adolescents explore and process their thoughts and emotions, fostering self-awareness and understanding. Therapists use various techniques to facilitate this process, which can also be applied in group therapy.
Some common therapies used in individual treatment include:
Cognitive-behavioral therapy
Dialectical behavior therapy
Mindfulness-based therapy
Solution-focused therapy
Trauma-informed therapy
These types of therapies offer young people practical tools and coping mechanisms to manage their thoughts, feelings, and behaviors.
How Long Does Individual Therapy Last?
Each session lasts about 40–60 minutes, and minor concerns are often addressed within a few weeks. However, chronic substance use or mental health conditions need long-term treatment. Sometimes, it takes up to a year for some noticeable changes to be noted.
The length of time one spends in therapy depends on several factors, including:
The specific diagnosis (the mental health or substance use issue being addressed)
How long has the patient had the mental health or addiction issue
The severity or complexity of the problem being addressed
The amount of distress the issue causes
Financial constraints
What Is the Effectiveness of Individual Therapy?
Individual therapy effectively addresses teen addiction and mental health issues. Targeted support and personalized attention from trained therapists enhance successful recovery and positive behavioral changes in troubled teens. One-on-one talk therapy allows tailored treatment plans based on each patient's needs, considering history, goals, and social context.
Furthermore, evidence-based individual therapy provides teens with a safe and supportive space to work through their emotions and challenges. It can also help teens build self-esteem, learn effective coping mechanisms, and develop positive social skills.
Call Massachusetts Center for Adolescent Wellness to Get Help with Our Individual Therapy Program in Massachusetts
Individual therapy can benefit teens grappling with mental health concerns or addiction issues. The combination of tailored treatment plans, one-on-one care from experienced and compassionate therapists, and other supportive services provided by MCAW make our outpatient program an excellent option for adolescents needing quality care.
At Massachusetts Center for Adolescent Wellness, we offer a range of therapy treatment options for adolescents. Our trained professional therapists are well-versed in individual, group, and family therapy. We work with families to help adolescents recover from mental health conditions and substance use. Contact us today at 855.944.6589 to begin the healing process for your teen.